E-commerce
Website Development
Looking for the best E-Commerce website development service in Pakistan?
Well, You have come to the right place!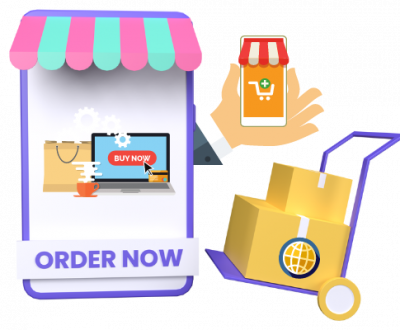 SEO Services Lahore (SSL) has helped many small and large businesses to set up an online digital store, by providing E-Commerce Website Development in Pakistan. And not only that, we also know how to create an e-commerce site that will convince your visitors to make an online purchase. The best part is that our e-commerce web development packages are very affordable. This means we can help you make more online sales and generate more revenue without paying a fortune. We have created e-commerce websites on Shopify, WordPress, Big Commerce, WIX and Amazon. 
SEO Services Lahore (SSL) is the leading ecommerce development company in Pakistan. As ecommerce development companies are growing by a tremendous percentage every day and new competitors are jumping into the sea of ​​development every day, SEO Services Lahore has firmly positioned itself as the best ecommerce development company in this region.
SEO Services Lahore (SSL) has a team of professional software developers, graphic designers, SEOs, software testers and content writers, making it the ideal ecommerce development company in Pakistan. So, as an ecommerce development company, we design the best ecommerce website to satisfy our valued customers. We offer the E-commerce website development services for a wide range of industries. 
As the leading web development company in Pakistan, hundreds of private businesses and government organizations in Pakistan trust us. Our e-commerce web development services aim to help our clients grow their online business with fast and fully managed e-commerce solutions not only in Pakistan but all over the world.
Not only do we offer ecommerce solutions at the best prices, but the online stores we have built also incorporate the latest ecommerce features, including mobile responsiveness, cart integration, and SM integration. Plus, as an official Amazon partner, all of our plans come with an easy-to-use content management system that can make it easy for you to grow online at Amazon. So contact us now or visit one of our offices in Lahore
Some Important Questions about E-Commerce Development Services
The term electronic commerce (commonly known as E-commerce) refers to the business model that allows companies and individuals to buy and sell goods and services over the Internet. Although you can sell both products and services on an E-commerce website, it is mostly used to sell products online. It has the following features:
Creating an E-Commerce Website.
Putting your products' images, descriptions, specifications, features and prices on the product pages.
Establishing an online selling system by integration an online payment method.
E-commerce management is the practice of managing an online business, so it's successfully achieving its goals of quality product, customer acquisition and customer retention. E-commerce management involves the launching as well as running of a business website wherein the e-commerce manager has the prowess to manage all those personnel who are involved in providing the e-commerce functions. E-commerce management has the following functions:
Creating an E-commerce website.
Optimizing it for the search engines as well as your target audience.
Maintaining it.
Keep the images, descriptions, specifications, features and prices updated on the product pages.
Keep the payment function in the working condition.
Keep the website fully integrated with the marketing, sale and customer services departments.
Keep the product inventory updated on the website.
Run any promotional campaigns.
Keep the track record of the customers/website visitors.
Keep the record of online sales.  
SSL not only offers E-Commerce Website Development in Pakistan but also the management services for E-commerce stores. 
E-commerce is the sale of goods and services over the Internet. Customers log into the website or online marketplace and purchase products using electronic payments. After receiving the money, the merchant ships the goods or provides the service.
E-commerce works same as a physical store. Customers enter your online store (website), browse products, and make purchases. The big difference is that they don't have to get off the couch to do this, and their customer base isn't limited to a particular region or geographic area.
To show how it actually works, here's the journey of a product (a shirt) purchased online:
A customer visits your online store and searches for your products. He goes to a shirt (product) page. Choose the size and color and put it in the shopping cart.
The order manager or order management software confirms that the product is available.
When the product is in stock and the customer is ready to pay, he enters the payment card details and shipping information on the checkout form or page (or chooses "cash on delivery" option).
The payment processor, usually a bank, confirms that the customer has enough cash in the bank or enough balance on their card to complete the transaction.
The customer receives a message on the site that the transaction was completed successfully. All this happens in seconds.
The order is shipped from the warehouse to the customer's address. The customer receives an email informing him of the delivery of the product.
The order is delivered and the transaction is completed.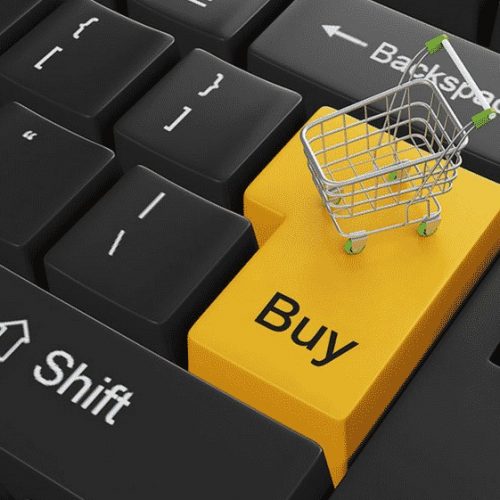 The Key Features Our E-commerce Website Development Services 
What is the Advantage of an E-commerce Website?
Local Business Without an E-commerce Site
Local Business With an E-commerce Site
You may be satisfied with your current business without an E-Commerce website. But this is because you don't know the potential of taking your business online. Your present business market is limited to your geographic location. With an E-commerce website you can expand your market as much as you want.  Sky is the limit for it. Let SSL provide you the best E-Commerce Website Development in Pakistan.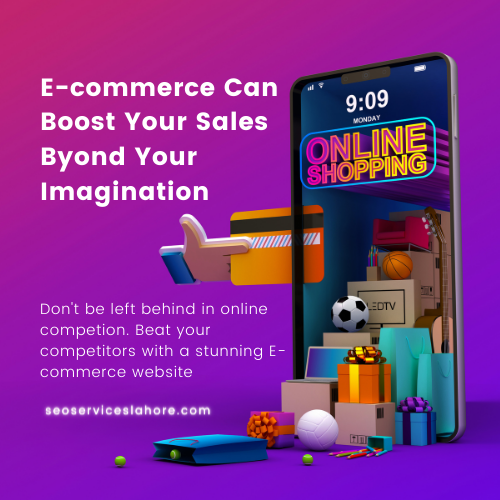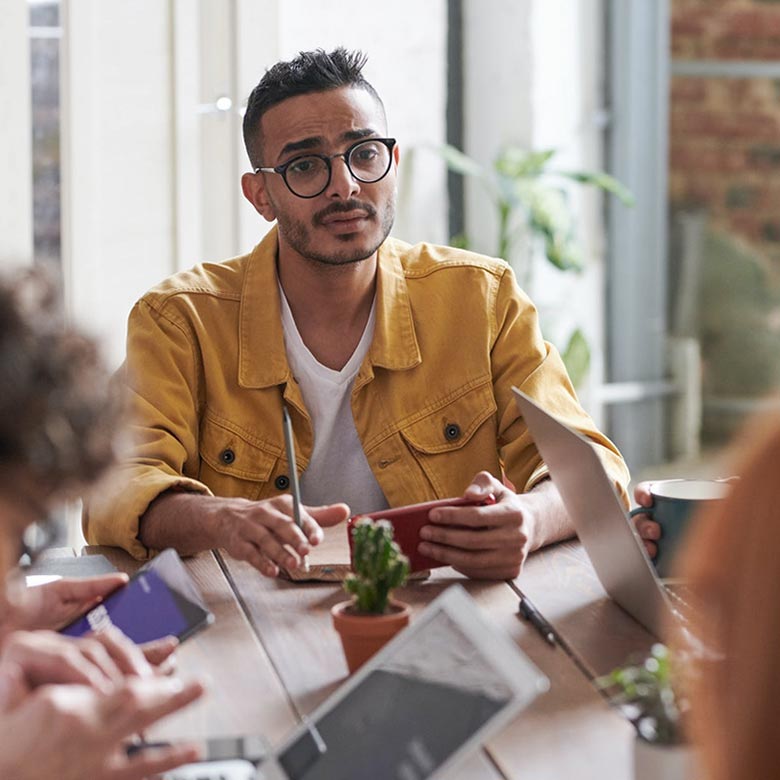 How to Start Your E-commerce Business?
Planning an online store can be challenging as it involves a lot of technical issues to consider.
But with our help, this can be as easy for you as 1,2,3. We have a team of experts, ready to guide you in planning and establishing your online business by providing you the best services for E-Commerce Website Development in Pakistan . All you have to do is to make a list of all the products/services you want to sell online and contact us in any of the ways mentioned below. We will get back to you with an initial plan. You will study the plan and then approve it or ask for any clarification. After the approval of the final plan from you, we start working on your project. The duration of the whole E-commerce campaign depends upon the functionalities you need and the products & categories you want on your website.  
E-Commerce Website Development in Pakistan Packages
Basic
---
Starting Package for 10 - 30 Products
---
Maximum 30 Products
Your Desired Theme
Fully Responsive
Cart Integration
Complete On page SEO
Technical Support
Integrated Payment
One Year Free Domain
One Year Free Hosting
One Year Free SSL Certificate
---
Premium Package
---
Premium Package for 31 -60 Products
---
Maximum 60 Products
Your Desired Theme
Fully Responsive
Cart Integration
Complete On page SEO
Technical SEO
One Year Free Domain
One Year Free Hosting
One Years Free SSL Certificate
Technical Support
Social Media Integration
Integrated Payment
Google Analytics Integration
Customer Login/Registration 
Shipping Cost Integration
Live Chat
Blog
---
Super Package
---
Super Package for 60 - 100 Products
---
Maximum 100 Products
Your Desired Theme
Fully Responsive
Cart Integration
Complete On page SEO
Technical SEO
Technical Support
One Year Free Domain
One Year Free Hosting
One Years Free SSL Certificate
Social Media Integration
Integrated Payment
Live Chat
Cash on Delivery Mechanism
Google Analytics Integration  
Customer Login/Registration 
Invoice Download/Print
Shipping Cost Integration 
Inventory Management
Blog
---
All of Our E-Commerce Web Development Packages Include:
The Industries we have worked for:
Have Questions about E-commerce Websites? We have answers...
1
What are the Advantages of E-commerce Websites?
The online marketplace is a good platform to grow your business. We will explain the benefits of sharing our knowledge about e-commerce. A key advantage of e-commerce for businesses is that sellers can offer flexibility of time and place to the customers. A highlight is that the products and services are available 24 hours a day, 7 days a week access able by internet from any part of the world. The result is that the seller can list their item anytime, anywhere. Some more benefits are:
Inexpensive
Comparison of products and prices.
Flexibility and speed
No range limitation
Stability
Various payment methods
safety
Reach new customers
Bigger market
A fraction of investment than a physical store
Under Covid 19, the contactless sale is the ideal method  
Any many more……
2
What is the Purpose of E-commerce?
E-commerce brings convenience to customers as they do not need to leave home and only need to browse online websites, especially to purchase products that are not sold in nearby stores. It could help customers purchase a wider range of products and save time. Consumers are also gaining power through online shopping. With technological development and the wave of digitization, more and more companies are adapting to technological developments. You can also find digital payment options at grocery stores and street vendors. The ultimate purpose behind this development is to make shopping a hassle-free experience for everyone.
3
Why You Can't Increase Ecommerce Sales?
You have a great product. And you know it's going to sell like hotcakes. You invest money and time in building an amazing E-commerce store. Sales are coming in, but not enough. Weeks turn into months and your sales don't increase. Why? Let's go through the points and find out the reasons that are preventing you from selling more of your products and services online.
You're targeting the wrong people
Low-quality images
Customers don't trust your website
Bad product descriptions/images
The website is not properly optimized
The delivery time is outrageous
Failed to get customer loyalty
The sales team is not properly trained
Rely on old technologies
etc.
4
How Does E-commerce Increase Sales?
You invest money and time in building an amazing E-commerce store. Sales are coming in, but not enough. Now you want to increase sales, but how? Here are some ways you can increase E-commerce sales in your stores.
Build trust in your brand
Meet your customers where they are on social media
Get your prices right
Improve your conversion rate by testing, testing, anb testing
Use the services of an SEO
Capture premium product images
Use shipping to your competitive advantage
Use data analysis to improve your strategy
Optimize your site
Reduce delivery times
Show testimonials
5
How can an E-commerce Website Help to Improve a Business?
Your business may have started at farmers' markets, pop-up events, or even a physical store, but you need an E-commerce site to support and grow it. More than half of the buyers start their buying process with online research, so you can improve and grow your business by using an E-commerce site as well. E-commerce improves your business in the following ways:
An e-commerce site becomes your hub
It helps you gather information.
It allows you to personalize the experience
It Expands your reach
You can offer more customer service options
6
How Covid-19 is Transforming E-Commerce?
For years to come, we will remember 2020 as the moment that changed everything. Nowhere has there been unprecedented and unexpected growth like in the digital and e-commerce sectors, which have exploded amid the COVID-19 crisis. With so many more people choosing to shop online, it makes sense that every business, big or small, needs to have a digital presence. Since the outbreak of the pandemic, more than 30 eTrade for all partners have worked together to raise awareness of the opportunities and risks of e-commerce that arise during the crisis. This includes a website and smartphone apps.
See What Our Valued Clients Say About Us!

HOW IT WORKS
Join us with three
easy steps
Visit our social media pages and become the part of our online community.